Chiropractor Jeffrey Durski D.C.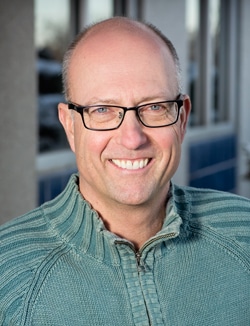 Dr. Jeff Durski has been in clinical chiropractic practice since 1989. After completing his pre-med studies at the University of Wisconsin Eau Claire, he earned his doctor of chiropractic degree in Davenport, IA from Palmer College, the oldest established chiropractic college in the world.
Dr. Durski is one of fewer than 100 chiropractors worldwide who have earned diplomate status in the Gonstead technique. He received this distinction in 1995 through the Gonstead Clinical Studies Society. He also is board eligible as a chiropractic neurologist after completing over 300 hours of post-graduate education via National Health Sciences University. He has served as part of the extension faculty for Palmer University and Northwestern Health Sciences University as a preceptor, allowing students to experience a live office setting to complete the last portion of their chiropractic education. He also has participated in several practice based research projects with Palmer. Dr. Durski enjoys educating his patients and community on the benefits of chiropractic and natural health care and can be found conducting workshops throughout the local area.
Dr. Durski and his wife Joy reside in Greenfield. They have been married since 2006 and have a Sicilian hound named Ruby. Dr. Durski enjoys cheering on local sports teams, specifically the Packers, Bucks and Brewers, and is interested in weight training, cycling and music.
Education
Undergraduate studies: University of Wisconsin-Eau Claire
Professional studies: Palmer University of Chiropractic
Board Eligible Chiropractic Neurologist – 300 Hours in Clinical
Neurology through National College of Chiropractic, Lombard, IL
Gonstead Diplomat via over 500 hours post graduate, Gonstead
Professional
Extension faculty – Palmer University of Chiropractic, Davenport, Iowa
Extension faculty – Northwestern University of Chiropractic, Bloomington, MN
Owner of Durski Chiropractic Health Center/Jeffery N. Durski, D.C., S.C.
Member of Wisconsin Chiropractic Association
Member of Gonstead Clinical Studies Society